Meet the NHS App
The NHS App is a secure and straightforward way to access a range of NHS services from your smartphone.
It's free to download and use and available on Apple's App Store and the Google Play store.
To use the App, you need to be registered with a GP practice and aged 13 or older.
How does the NHS app benefit patients?
One of the NHS App's best features links you directly to your own GP practice.
Directly through the App, you can send a secure message to our doctors, get test results and view and request your prescribed medication.
Because the App connects to our system, these functions are available to you even when the practice is closed. So, you can reorder a prescription as soon as you think of it or look for appointment times that suit you.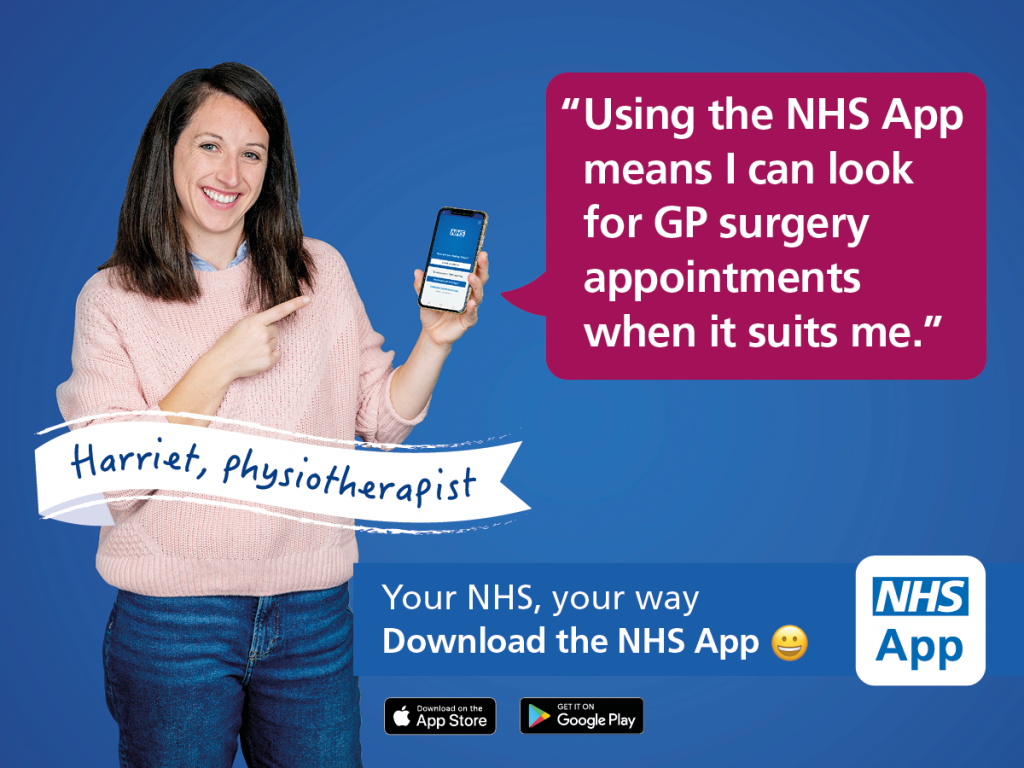 Any messages sent while the practice is closed, we will respond to the next working day – but if you need urgent help, you can also access NHS 111 directly through the App.
Here you can get advice and guidance on what best to do for a wide range of physical and mental health issues. If you need to be seen in person, you can enter your phone number and get a call back to book you into a local NHS clinic.
Covid passes – your proof of vaccination against covid-19 – can also be generated from the App. You may need these to enter some events in the UK or for international travel.
The NHS app is quick, easy, and convenient. It connects you to your GP practice, allowing you to send a message or complete tasks anytime, from anywhere.
Watch the video below for a quick guide:
How do I get started?
Once you have downloaded the App to your preferred device, you will need to set up an account and log in.
You will need to enter some basic information – your name, address, email address, and mobile phone number to get registered.
Watch the video guide or follow the simple steps below:
Here's what you will need to do:
Enter your email address.
Enter your mobile number and wait for a confirmation text message to come through.
Enter the confirmation code.
Create your NHS login – if you have your NHS number, it will help, but you can register without it.
Make sure the information you enter matches the information we have on your record.
Accept the terms and conditions of using the App.
Next, you will need to confirm your identity – all you need to do is upload a picture of your passport or driving license and then take a photo of yourself.
The App will securely check your images and confirm your identity.
Now you're free to explore the App. If your device uses fingerprint or face scanning, you can choose to use that to make logging into the NHS App even more effortless.
Is the App safe to use, and what about my data?
Because the App is owned and run by the NHS, you can rest assured that your data is stored safely and never shared without your consent.
The information you enter and how it is used to confirm your identity follow data protection laws. You can find out more by reading the NHS login privacy notice.
What if I don't have a smartphone?
If you don't have a smartphone or can't download apps, you can use the NHS login to access the same services through a web browser on your computer or laptop.
Do I have to use the App or do things online?
No, there is always the option to call or visit us, and we appreciate that some patients will prefer that route.
But the NHS App and other digital technologies offer choice and flexibility – and often, you will be able to do what you need quicker, without needing to wait for us to open or be able to get through on the phone.
When everyday tasks like booking an appointment, reordering a prescription, or choosing which pharmacy to have it sent to can be automated through the NHS App, it frees up members of our team to be able to spend more time with patients in the practice or on the phone to those who can't use digital tools.